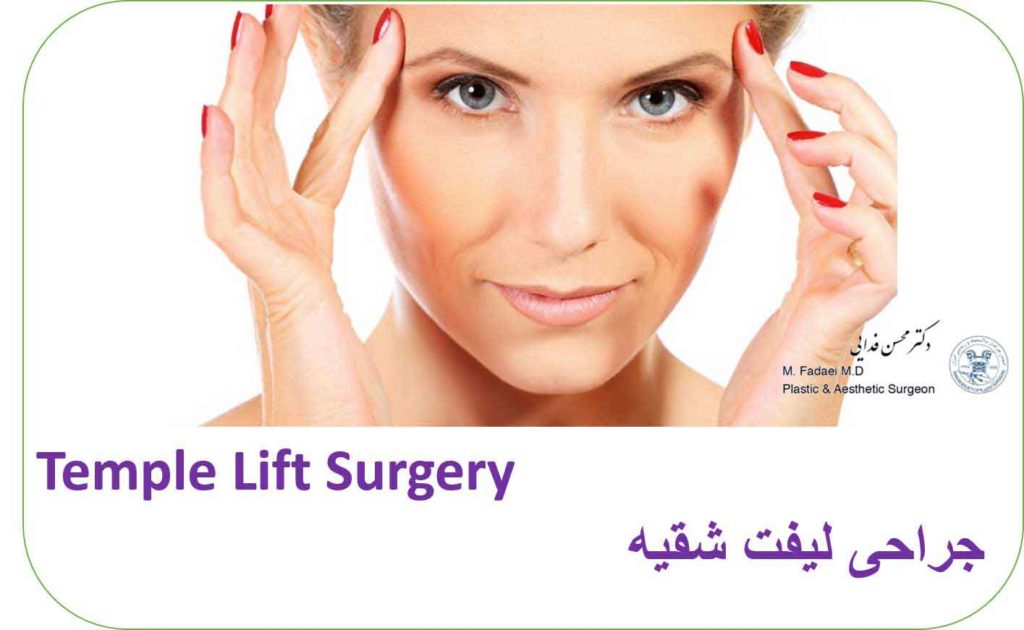 TEMPLE LIFT Surgery!
 Everything About TEMPLE LIFT Surgery!   
Also known as, a temporal brow lift, a temple lift is a plastic surgery procedure performed to elevate the outer brow. It can soften crow's feet, and tighten the area around the temples.
Dr. Fadaei sometimes perform to a temple lift as a stand-alone procedure, and sometimes he combines it with other surgeries, such as a blepharoplasty (eyelid lift) and face-lift. This surgery can be performed with smaller incisions well hidden within the hairline, resulting in easier recovery and minimal scarring.  
How is TEMPLE LIFT SURGERY procedure?
Dr. Mohsen Fadaei performs a temple lift on an outpatient basis utilizing sedation or local anesthesia or under anesthesia. At first, a small incision is placed in the hairline above the ear. Through this incision, underlying tissue is mobilized and then suspended to elevate the outside of the brow and smooth crow's feet. He removes excess skin and closes the incision with small sutures.
WHAT IS RECOVERY AFTER TEMPLE LIFT?
A temple lift is a minimally-invasive procedure with a relatively short downtime. Directly after the temple lift, sutures are placed over the incisions and a light bandage is applied to the head for approximately 24 – ۴۸ hours.

You will be given instructions on care of your dressings on discharge from the Surgery. The bandage will generally be removed 24 – ۷۲ hours after your Surgery. You will need to sleep with 2 to 3 pillows to keep the head raised for the first week following Surgery. This helps minimise swelling and bruising.

Bruising may appear on your forehead and around your eyes. This usually dissipates within seven to ten days although may persist for six to eight weeks and black eyes are a possibility, but unlikely. This bruising and swelling can be camouflaged with special make-up.

Ice packs and elevation are the best methods of reducing swelling and bruising, especially if applied in the first 24 – ۴۸ hours. Remember not to place ice directly in contact with the skin, wrap it in a plastic bags and towels so that it produces a pleasant cool rather than a stinging cold. You may prefer to use a dampened hand towel placed in the refrigerator for several minutes to chill.

You will be asked to attend our Rooms on an outpatient basis, to be monitored postoperatively. This will also enable us to address any problems you may have.

Sutures will be removed at about the tenth to fourteenth day postoperatively.

Best Candidate for temple lift surgery:
Those who do not need a full eyebrow lift and only want the end of their eyebrows to be pulled.

Those who have deep lines at the end of the eyebrows and on both sides of the eyes and tend to reduce the visible effects of aging on their face.

Those whose eyebrows are drooping due to hereditary or aging and sagging skin.
There are several variations of a surgical Templelift,
which is reserved for patients with less sagging
SMAS facelift (Superficial Musculoaponeurotic System):
In this method, the underlying layers of the skin are stretched, which results in a better and more lasting lift. In fact, in this surgery, the surface layer of the muscle is pulled under the skin.
MACS lift (Minimal Access Cranial Suspension):
In this method, the underlying layers of the skin are stretched, the result of the lift will be more lasting, as well as the skin condition and stretch of the facial skin will be more natural.
Facelift: Everything You Need to Know
Can High-Intensity Focused Ultrasound Treatment Replace Face Lifts?