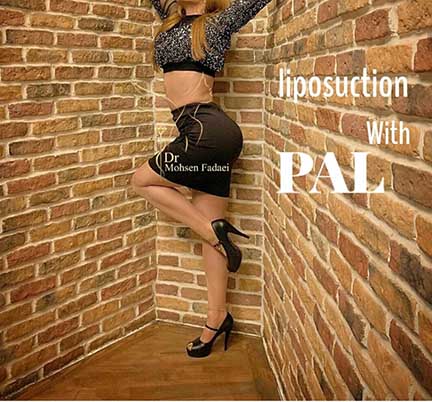 Liposuction with PAL
Liposuction is a surgical procedure that is used to remove fat from the body. Removing fat during a liposuction procedure is not easy, and it may not be possible to remove all of it. A new procedure which is called " PAL" , has been developed that solves this problem.    
Because it can be difficult to move a cannula – the liposuction tube used to remove fat – back and forth through fat tissue, surgeons are not always able to effectively remove all unwanted fat. PAL, or power assisted liposuction, features devices that are easier for surgeons to control, allowing for more precise and thorough fat removal. These devices produce rapid, small vibrations to break up fat so that it can easily be suctioned out through the cannula.
The Power Assisted Liposuction Procedure
Power assisted liposuction is performed using a special cannula which uses tiny, rapid vibrations to break up fat cells so that they can be suctioned out of the body. Doctors can remove more fat in a shorter period of time, which leads to enhanced results, a safer procedure, and faster recovery. PAL is performed using the tumescent liposuction technique, in which an anesthetic liquid is injected into the treatment area for smooth fat transfer through the cannula and out of the body.
Vibrating Cannula
In PAL ( power assisted liposuction), the tube used to extract fat from the body, vibrates rapidly. This vibration actually makes liposuction gentler on the body's tissues because it loosens fat cells and allows them to be easily suctioned away. This specialized cannula allows for smaller incisions and reduced recovery time compared with other liposuction techniques. The vibrating tip used in PAL allows for safer liposuction because of its small, precise motions. Surgeons can target specific areas without damaging surrounding tissue.

PAL Benefits
Doctors do not need to use as much force during  Liposuction with PAL, because the vibrating cannula helps release fat cells from the body. 30 percent more fat removes with PAL than with manual liposuction, while bruising and recovery time is significantly reduced. Patients report many long-term benefits of fat removal with liposuction.
to summerize the benefits of Pal , we can mention :
A more flattering figure or physique, in and out of clothing

Improved body contours and proportions

Improved self image and self confidence
The procedure requires fewer incisions, making it more patient friendly.

The vibrations help in breaking down fat, ensures that all of it can be removed through the cannula.

the treatment does not cause much swelling and The patient's recovery will be shorter

This procedure can be done in less time than traditional liposuction.

PAL is effective for use in a number of different parts of the body, like the inner thighs and bellybutton region.

High definition PAL (power-assisted liposuction) not only completely removes stubborn fat but also helps to precisely sculpt areas of the body like the abdomen. This can create an athletic and fit look by giving patients amazing abs.

Fat is more effectively separated and removed, resulting in a faster and easier procedure.

 Through the use of tumescent injection, blood loss is dramatically minimized during surgery and afterward. Likewise, fluids do not need to be replaced intravenously during treatment.
 who is a Candidate for Liposuction with pal ?
Power-Assisted Liposuction can be performed on overweight patients who want to remove large volumes of fat, or on patients simply looking for definition, contouring and body sculpting.
you can have the surgery if you have :
STUBBORN FAT


You have stubborn fat deposits that are resistant to diet or exercise.

OUT OF PROPORTION


You have fat deposits that are out of proportion with the rest of your body.

NEAR YOUR WEIGHT GOAL


You are 30% within your ideal weight.
recovery
You can go home the same day wearing the compression garment. Any initial discomfort is easily controlled with oral pain medication. You can return to work within a few days, but strenuous activities should be avoided for 2-4 weeks. Bruising and swelling usually subside within 2-3 weeks. After your procedure, you will follow up with us several times so that we can monitor your healing. The final results take shape over the 2-3 months after your liposuction surgery.
Dr.Fadaie will help you make an informed decision by explaining the options as well as the risks and contraindications associated with the liposuction procedure. for more information , please contact Dr.Fadaie's clinic.