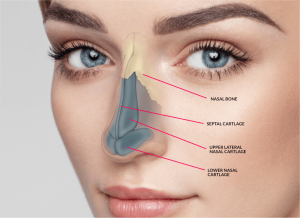 Rhinoplasty, commonly known as a nose job, is a plastic surgery procedure for correcting and reconstructing the nose. There are two types of plastic surgery used – reconstructive surgery that restores the form and functions of the nose and cosmetic surgery that improves the appearance of the nose. Reconstructive surgery seeks to resolve nasal injuries caused by various traumas including blunt, and penetrating trauma and trauma caused by blast injury. Reconstructive surgery also treats birth defects, breathing problems, and failed primary rhinoplasties. Most patients ask to remove a bump, narrow nostril width, change the angle between the nose and the mouth, as well as correct injuries, birth defects, or other problems that affect breathing, such as deviated nasal septum or a sinus condition. 
What rhinoplasty can treat
Nose size in relation to facial balance

Nose width at the bridge or in the size and position of the nostrils

Nose profile with visible humps or depressions on the bridge

Nasal tip that is enlarged or bulbous, drooping, upturned or hooked

Nostrils that are large, wide or upturned

Nasal asymmetry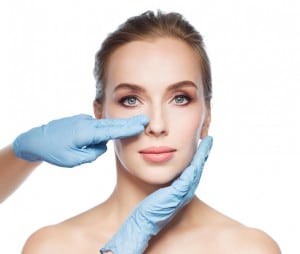 Rhinoplasty in Iran
Rhinoplasty in Iran is very common and has a long history. The large number of specialists in this field in Iran and many candidates seeking this cosmetic surgery are the reasons that made Iran, the capital of nose job in the world.
Due to the price of rhinoplasty in Iran, understandably, plenty of nose job candidates from across the world travel to Iran but if the quality of this surgery in Iran were poor there would be a decline in the number of procedures every year. But the rising number of people with different nationalities shows international satisfaction from Iranian specialist surgeons. The reputation of Dr Fadaei as one of the best Iranian surgeon has led some candidates to choose him as their plastic surgeon they are willing to have rhinoplasty with, before they even travel to Iran.
Contact Dr. Mohsen Fadaie clinic for a consultation if you need:
WhatsApp : +989101414089