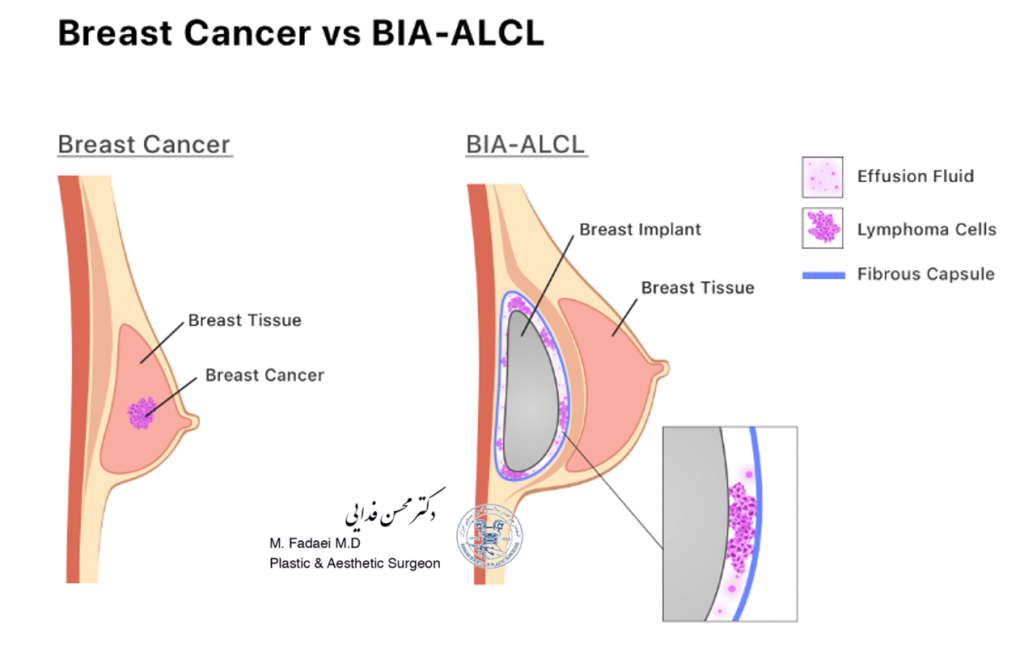 everything about Breast Implant and BIA-ALCL
Breast Implant and BIA-ALCL
What You Need to Know ABOUT Breast Implant and BIA-ALCL!     
Each year, hundreds of thousands of patients undergo breast implant procedures worldwide. Breast implants remain an important option for breast augmentation and breast reconstruction procedures. Patients considering breast implants should seek out a board-certified plastic surgeon to help weigh the benefits and potential risks to make the best possible decision. Like any medical device, breast implants carry a risk of complications, and in the event any complication develops, patients should consult their plastic surgeon to address it in a timely manner.   
The FDA first identified a possible association between breast implants and the development of ALCL in 2011. At that time, the FDA knew of so few cases of this disease that it was not possible to determine what factors increased the risk. In 2016, the World Health designated breast implant-associated anaplastic large cell lymphoma (BIA-ALCL) as a T-cell lymphoma that can develop following breast implants and noted that the exact number of cases remained difficult to determine.
What is BIA-ALCL?! 
Breast implant-associated anaplastic large cell lymphoma (BIA-ALCL) is a rare and highly treatable type of lymphoma that can develop around breast implants. Data shows that it occurs most frequently in patients who have breast implants with textured surfaces.
Where in the breast has BIA-ALCL been found?
In the case studies reported in the literature, BIA-ALCL is usually found near the breast implant, contained within the fibrous scar capsule, and not in the breast tissue itself. The illustration below shows the location of the ALCL in these reports. In most cases, the ALCL cells were found in the fluid surrounding the implant (seroma) or contained within the fibrous capsule.
Treatment Steps of BIA-ALCL:
When a woman is diagnosed with BIA-ALCL, her physician will refer her for a PET/CT scan to look for any disease that may have spread throughout the body. Any spread of the disease determines the stages, which is important for treatment.

Newly diagnosed patients will be referred to an oncologist for evaluation of BIA-ALCL, staging of disease, and treatment planning.

For patients with BIA-ALCL only around the implant, surgery is performed to remove the breast implant and the scar capsule around the implant.

Lumps in the armpit may be disease that has spread to the lymph nodes or may still be a normal enlargement of the lymph nodes. Testing of the lymph nodes may be performed with a needle biopsy or with a surgery to remove a lymph node for testing. Additional tests may sometimes include blood tests and a bone marrow biopsy.

Some patients with advanced cases may require further treatment with chemotherapy and in rare cases include radiation therapy and/or stem cell transplant therapy.
After treatment:
Following removal of the disease, patients are commonly followed for two years with imaging tests such as PET/CT scans in three- to six-month appointments. Disease re-occurrence is rare after surgical removal for early disease.
What is BIA-ALCL? Is it breast cancer?
A2. Breast Implant Associated Lymphoma (BIA-ALCL) is not breast cancer – it is a type of non-Hodgkin's lymphoma (cancer of the immune system). In most cases, BIA-ALCL is found in the scar tissue and fluid near the implant, but in some cases, it can spread throughout the body. An individual's risk of developing BIA-ALCL is considered to be low; however, this cancer is serious and can lead to death, especially if not treated promptly. In most patients, it is treated successfully with surgery to remove the implant and surrounding scar tissue, and in some patients, also treatment with chemotherapy and radiation therapy.
What are the symptoms of BIA-ALCL?
The main symptoms of this are persistent swelling, presence of a mass or pain in the area of the breast implant. These symptoms may occur well after the surgical incision has healed, often years after implant placement.
Upon evaluation by a health care provider, evidence of fluid collection around the breast implant (seroma) is often observed. Some patient reports indicated that a lump under the skin or capsular contracture (thick and noticeable scar capsule around the implant) were present.