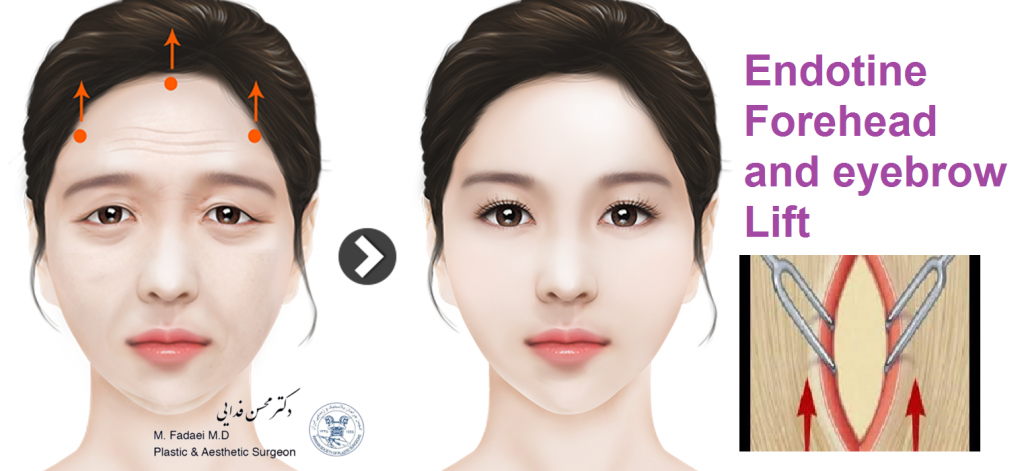 Endotine Forehead and brow Lift!
Minimally invasive Endotine face lift procedures, performed by a board-certified plastic surgeon, will provide natural results that can last for years – not just months.
Endotine Facial Procedures:
Endotine implants are used in a variety of facial procedures including browlifts, cheeklifts and necklifts, to suspend and anchor your lifted soft tissue.
How Endotine Works:
Endotine uses small tines to securely hold your skin in just the right position. The tines are designed, to reduce the strain and pulling associated with sutures.
| | | |
| --- | --- | --- |
| Procedure | Targeted Areas | Implants Used |
| Forehead Lift | Forehead and Brow | Endotine Forehead or Forehead-Mini |
| Brow lift | Brow and Upper-eyelid | Endotine Transbleph |
| Cheek lift | Midface: Lower-eye and Cheek | Endotine Midface |
| Neck lift | Lower-face: Neck and Jowl | Endotine Necklift |
Endotine Forehead:
Endotine gives surgeons the ability to adjust your forehead-skin position through very small incisions behind your hairline, raising your brows to a natural position, while softening creases between your eyebrows and along your forehead.
This procedure typically takes between one and two hours and is usually performed in the surgeon's office-based facility or an outpatient surgery center under intravenous sedation or general anesthesia.
Endotine Forehead Lift:
Lifting stretched and saggy eyes along with forehead to help you have a young-looking face
It is a surgical method, that makes small incisions on inner part of your hair to insert Endotine, lifting up saggy eyes, eyebrows, wrinkles between eyes and forehead wrinkles all at once. Since Endotine Forehead lift pulls up your stretched skin tissue, it not only removes wrinkles but also lifts your skin for a young, gentle, and bright look.
What is endotine brow lift?
It is a surgical method that makes small incisions on inner part of your hair to insert Endotine, lifting up saggy eyes, eyebrows, wrinkles between eyes and forehead wrinkles all at once.
Endotine will resolve Four issues at once!
Saggy eyes
Saggy eyebrows
Forehead wrinkles
Wrinkles between eyes
What is Endotine?
It is a medical device specifically designed for lifting skin tissue.
Benefits of Endotine Forehead Lift:
Tightly holding the skin with Endotine instead of lifting thread!
Using high-tech endoscope for a safe surgery, without a large incisions made
We only make small incisions fit for inserting the high-tech endoscope, no need to worry about scars left. Since the entire area under the skin is being monitored on a screen during the surgery, there will be no damage of nerves, blood vessels, or major organs around the surgical area. Thus, the low chances of side effects or complications but fast recovery is expected.
You can expect an assured lifting effect which, can be achieved through a wide decortication of stretched area based on the knowhow of skilled specialists.
Thread Browlift

Lifting method:

Fixation on one point after skin incisions for a concentrated strength and pull

vs

Endotine forehead lift

Lifing method:

Fixing the tissue on endotine after skin incisions for a balanced strength and pull

Limited removal effect of deep wrinkles due to
its weak power for thorough pull.

Wrinkle removal

Thoroughly pulling the skin tissue with 5 ridges, improving the deep wrinkles that were difficult to remove with botox and laser!

High chance of getting scars due to
its wide area of incisions.

Scars

Incisions are made on the scalp to for invisible scars.

Area of incisions are small, no scars will be left

۱~۲ years

Duration of effect

Semi-permanent

۱ hour ~ 1 hour 30 minutes

Surgical duration

۴۰~۵۰ minutes

With using a dissolvable thread, patient might

have uncomfortable sensation. With using a dissolvable thread, lifting effect doesn't expected to be last for long.

Features

Endotine gradually disappears through absorption for up to a year, but lifting effect lasts semi-permanently.
Benefits of Endotine Forehead Lift:
Safe implant that is absorbed in the body within 1 year
Semi-permanent lasting effect
No scars or nerves left
Short surgical time
Short recovery period
What is the best age to get a facelift?
Although people in their mid 40s often see the best results, the optimal age to get a facelift depends on each person's individual circumstances, which are unique to their face. In most instances, individuals in their 40s, 50s, and 60s are the best candidates for facelift surgery.