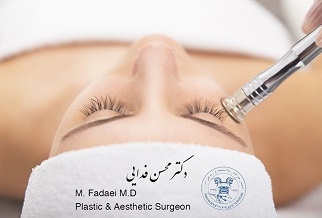 ?What Is Microdermabrasion
What Is Microdermabrasion?        
Microdermabrasion is a cosmetic procedure. It involves a skin care specialist removing the top layer of skin with a small hand-held device.
Microdermabrasion can exfoliate the skin, reduce signs of aging, and make the skin appear more even. The procedure is safe a person with any skin color.
What microdermabrasion can do 
Improve age spots and blackheads

Improve hyperpigmentation (patches of darkened skin)

Exfoliate your skin, resulting in a refreshed appearance

Lessen the appearance of stretch marks

Reduce fine lines and wrinkles

Reduce or eliminate enlarged pores

Treat acne and the scars left by acne
Microdermabrasion helps to thicken your collagen, which results in a younger looking complexion. Collagen is a protein in your skin which is abundant when you're a child and makes skin appear taut and smooth. Collagen production declines as we age, resulting in looser, uneven skin.
Before You Get Dermabrasion or Microdermabrasion
You'll consult with the professional who's doing the procedure.
In a dermabrasion consultation, you'll discuss your goals, the procedure's risks and benefits, and the type of anesthesia that will be used. You'll also get instructions to follow before and after dermabrasion and perhaps have "before" photos taken to compare with your results later.
With microdermabrasion, the consultation is similar but with less talk about anesthetics and risks because it is a simpler procedure.
How does microdermabrasion work? 
Microdermabrasion is an in-office procedure that usually takes about one hour. It's typically performed by a licensed skincare professional, who may or may not be under the supervision of a healthcare provider. This depends on what state you live in.
It's not necessary to use anesthesia or a numbing agent for microdermabrasion.
During your appointment, you'll be seated in a reclining chair. Your provider will use a handheld device to gently spray on the particles or sand away the outer layer of skin in the targeted areas. At the end of the treatment, a moisturizer as well as sunscreen will be applied to your skin.
Microdermabrasion was first approved by the U.S. Food and Drug Administration in 1996. Since then, hundreds of microdermabrasion devices have been produced.
There are a few different ways to do the procedure, based on the specific device used:
Diamond-tip handpiece
A diamond-tip handpiece is designed to gently exfoliate dead cells in your skin. At the same time, it will suction them off immediately.
The depth of the abrasion may be affected by the pressure applied on the handpiece as well as how long the suction is allowed to remain on the skin. This type of microdermabrasion applicator is generally used in more sensitive facial areas, like close to the eyes.
Crystal microdermabrasion
Crystal microdermabrasion uses a crystal-emitting handpiece to gently spray on fine crystals to rub away outer layers of the skin. Like the diamond-tip handpiece, dead skin cells are suctioned off right away.
The different types of crystals that may be used include aluminum oxide and sodium bicarbonate.
Hydradermabrasion
Hydradermabrasion is a newer method. It involves combining simultaneous dermal infusion of products and crystal-free exfoliation. The entire process stimulates collagen production and maximizes blood flow to your skin.
Treatment Schedule and Recovery
The outermost epidermal layers are non-vascular which means that bleeding during the procedure is minimal. Six treatments are typically advised over the first 12 weeks at 2-week intervals to produce the maximum effect.
The repetition of this procedure every 4-8 weeks will help keep the skin healthy and fresh by encouraging the upward movement of skin cells from the lowermost or deepest layer of the epidermis.
After the procedure, the skin may appear red and there may be mild discomfort for a short while. Post-operatively, the use of sunscreen is mandatory, or the person must avoid exposure to sunlight for a few days.
Bruising or microscopic bleeding is rare and usually due to applying too much pressure for too long. Scarring is extremely uncommon, and infection practically unknown unless the patient has existing active herpes, impetigo, or warty lesions. Rosacea lesions may occasionally become active after microdermabrasion.
Follow Dr.Fadaei's Instagram Page