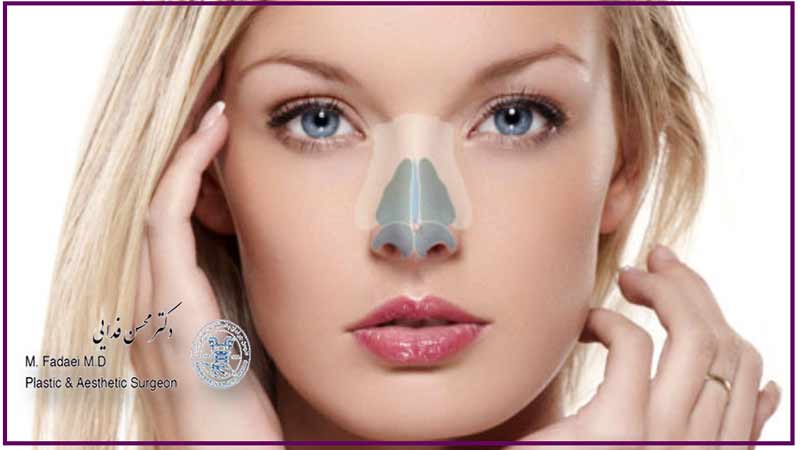 Primary and secondary rhinoplasty
 Types of Rhinoplasty surgery in

Dr. Fadaei Clinic,

Iran, Tehran  
As an experienced Iran Rhinoplasty Surgeon, Dr. mohsen fadaei, says that every nose is unique. His rhinoplasty surgeries alleviate patient concerns about their nose to achieve the desired appearance. His Clinic provides service for rhinoplasty and other cosmetic surgeries not only in iran, tehran, but also for patients from around the country and world.
Dr. Fadaei Clinic provides a variety of rhinoplasty and other cosmetic surgeries for patients from all over the country and the world in Iran, Tehran.
Primary Rhinoplasty:    
All people know that a beautiful nose should blend naturally with the other remaining facial features. so if a nose is disharmony with the other facial features, draws attention and can reduce from someone's overall beauty.
its important for Many patients to know that witch surgery is better for them?! open or closed rhinoplasty
Open rhinoplasty, involves a small incision on the outside of your nose at the columella (area between your nostrils). This incision is less than 5mm in length and the scar is virtually imperceptible in almost all patients. A closed rhinoplasty is done all on the inside of the nose with no external incision on the columella. therefore, An unattractive or asymmetrical nose can have a profound effect on a person's overall appearance and self-confidence.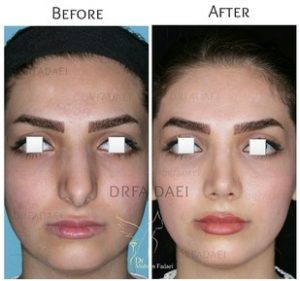 In closed rhinoplasty involves incision only in the interior of the nose.
If rhinoplasty requires an increase in nasal size, a prosthesis implants or cartilage (the person's own nasal septum or ear and ribs) is used. When the surgeon reshapes and corrects the defect, he will place the skin and tissue of the nose back, then close the incisions with stitches.
During your consultation, It will be described exactly , how the rhinoplasty will be done. An open rhinoplasty gives much more control and maneuverability to cosmetic surgeon
Common complaints of the patients in primary Rhinoplasty include:
my nose is too big

I don't like the bump on my nose

when I smile my nose tip plunges

My nose is crooked

I can't breathe normally

My nose looks big

My nose tip is big

My nose doesn't fit my face
Revision Rhinoplasty
Secondary Rhinoplasty also known as Revision Rhinoplasty is a totally different operation than a primary rhinoplasty and more advanced surgical techniques are also needed.  This surgery is more difficult because of scar, lack of graft material, problems arising from the first surgery, or difficulty breathing.
This surgery need to take cartilage grafts from the ear or rib. My preference is to confine the operation to the nose itself, but at times new donor sites are needed depending on the individual situation.
before surgery, dr. fadaei try to get the operative reports from initial operation, so that he can accurately plan a successful rhinoplasty.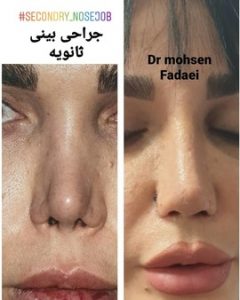 Common complaints of the patients in Revision Rhinoplasty include:
I can't breathe easily

i don't like my nose

My nose is still too wide or big or my nose tip is too pointy

My nose has changed over time

My nose has collapsed in an accident
Underlying factors such as very thick skin may limit certain improvements. In secondary rhinoplasty, preserving function is very important.
When doing your secondary rhinoplasty, dr. fadaei will make the desired changes while also reconstructing the foundation of your nose. For true success, your nose needs to look better and you need to breathe better. You will realize it, that small improvements in your ability to breathe can help you sleep better and feel better during the day.
If you have any questions or concerns about rhinoplasty please Contact us. We look forward to hearing your problems. After initial checks, Dr. Fadaei, plastic surgeon in Tehran offers you the best treatment solutions.
How Long Should patients from another cities or countries Stay in Iran, Tehran?
The surgery takes about 1.5 to 3 hours to complete. Depending on the complexity of the procedure and the type of anesthesia used, they may be able to leave the hospital on the same day or stay in the hospital for a day . Once they are discharged from the hospital, should not leave Tehran right away. Instead, plan to stay about 7 to 10 days for initial recovery and follow-up checkups. A week following the surgery, your surgeon will remove your stitches.