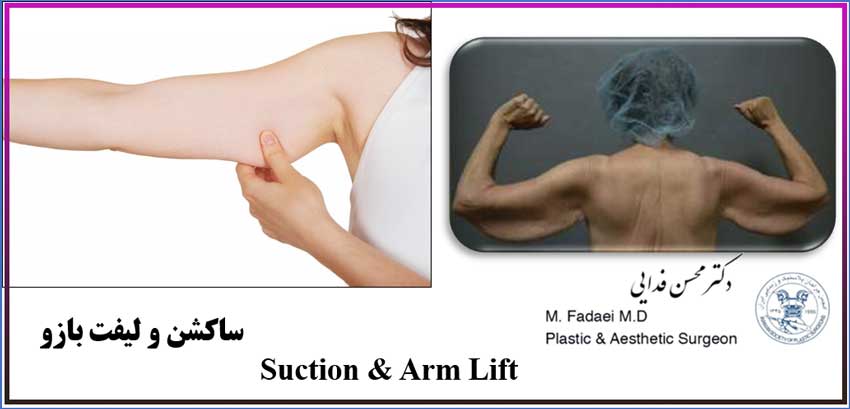 Suction and arm lift surgery
Suction and arm lift
Brachioplasty surgery (arm lift)
Excess skin hanging on the upper arms is uncomfortable and embarrassing for some women, and may limit the choice of clothing.
Many factors, including aging and weight fluctuations, cause the skin to lose its elasticity, which can cause your arms to drooping and sagging. This condition, also known as "bat wings", cannot be corrected through exercise, and many people decide to have suction and arm lift surgery. 
Suction and arm lift surgery is a cosmetic surgery to improve the appearance of the under portion of your upper arms.
Brachioplasty (arm lift) involves the removal of excess skin and tissue that may be hanging from the arms. Dr. Mohsen Fadaei, a specialist in plastic surgery, may recommend this method for you if you have the following:
Hanging arm tissue

Excess fat in the arms

Decide to improve the appearance of the arm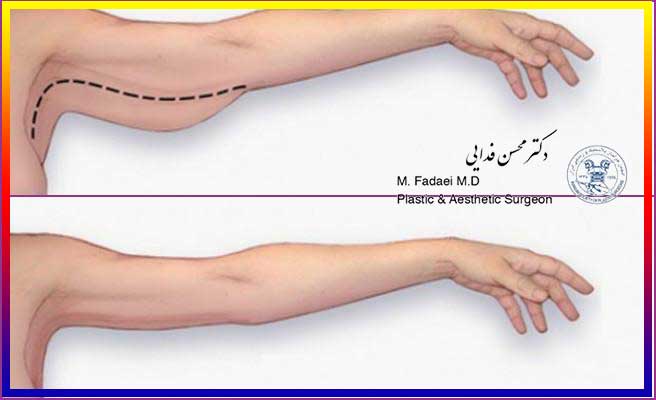 Am I a good candidate for suction and arm lift surgery ?
Arm lift surgery is ideal for many women (and even some men) who have excessive loosening of the skin due to excessive arm hanging from the skin. Before the operation, you should consult with Dr. Fadaei, a specialist in plastic surgery, and determine your goals. You must be a non-smoker and have a stable weight before performing this surgery.
You should be carefully evaluated medically before surgery. During the consultation, you will have the opportunity to talk to your surgeon about your cosmetic goals and preferences and to express any questions or concerns so that the surgeon can ease your mind and manage your expectations.
An arm lift, also known as a brachioplasty, reshapes the under portion of the upper arm, from the underarm region to the elbow.
The length and pattern of the incision depends on the amount and location of extra skin to be removed. Incisions are generally made inside the arm or behind the arm and may extend from the armpit to the elbow. If it is needed to reduce fat during arm lifts, this can be done or treated with liposuction or lipomatic.
Arm Lift or Arm Tuck or Brachioplasty, is a surgical procedure designed to remove excess skin and fat from the upper arms.
As we age, gravity, and in some cases, weight loss, the tissue in our arms begins to sag. This is a particularly annoying problem for women because they store more fat in the upper arm and do not have the muscle tone to maintain a good definition. These types of problems can only be removed with surgery.
Most patients who want to do arm lift, are people who have lost a lot of weight following obesity surgery such as gastric bypass. However, sagging skin is one of the side effects of weight loss surgery.
Benefits and Risks of Arm Lift Surgery at Iran?
Benefits of Arm Lift Surgery
Arm lift surgery has several benefits and its popularity as a cosmetic surgery method is increasing. The benefits of surgery include:
Create a thinner contour on the arms

Younger appearance

Improves balance and fit in the arm contour

Increase self confidence

Improve self-esteem
Risks of Arm Lift Surgery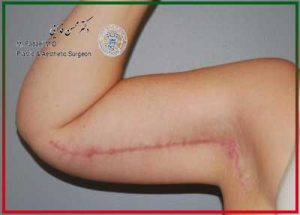 Reaction to anesthesia.

Excessive bleeding and bruising

The possibility of infection if you do not follow the surgeon's recommendations

Possible asymmetry if the surgeon does not

Possible numbness
During an arm lift (Brachioplasty) excess skin and fat is removed from the armpits and elbows. The remaining skin is placed on the newly relocated contours to create a more proportionate appearance.
On the day of your surgery, you will be taken to a private surgical suite where a trained anesthesiologist will administer general anesthesia to ensure you are comfortable throughout the entire procedure. Once you are sedated, your surgeon will begin by making incisions on the undersides of your arms. The length and pattern of the incisions depends on how much skin will be removed.
After, the plastic surgeon will tighten your underlying tissues and secure them with stitches. He may also use a suction technique to remove fat (Liposuction).
Your skin will then be draped over the new contours and excess skin will be removed. Stitches or surgical tape will be used to close the incisions.
After an arm lift, your incisions will be covered in bandages. Your arms will be loosely wrapped in elastic bandages to minimize swelling. Small tubes might be placed in your arms to drain any excess blood or fluid.
Recovery after suction and arm lift surgery
After the procedure, patients should plan on resting and avoiding activity for about a week. You may experience temporary swelling, bruising, and tenderness, but any discomfort should be manageable with the medications prescribed by your surgeon. You should avoid lifting your arms above shoulder level for 3-4 weeks. You should also avoid exercising your arms of any activity that may stretch the incisions.