filler removal and filler dissolving
Injecting gel and filler to fill and increase the volume and eliminate facial wrinkles is one of the most widely used beauty procedures in the world. Increasing demand for different types of filler and gel injections means that the likelihood of complications associated with these injections is constantly increasing. Non-absorbable fillers may remain for years and can cause inflammatory problems at any time. face and lip fillers are designed to dissolve naturally over time. However, there may be times when the results are not as expected and it is unreasonable to wait for the gradual disappearance of the injection result. If you are not satisfied with the result of your filler injection, it is very important to choose a cosmetic surgeon with a specialized board to remove the filler from the desired area to compensate for this result. In the following, we will discuss the tips and methods of filler removal and correcting the injection result.    
dissolve and remove the filler with hyaluronidase    
If the patient is dissatisfied with the hyaluronic gel injection, it can be assured that it can be removed using hyaluronidase. Hyaluronidase is an injectable enzyme that dissolves hyaluronic acid and reverses the results safely and quickly. Normally, after injecting the gel, the body gradually breaks it down over a period of 6 months to a year. But if the patient does not want to wait, hyaluronidase can speed up the gel dissolve process.
Patients can have different reasons for wanting to get rid of their injectable gel. One reason may be that an inexperienced doctor has injected too much into an area. These areas can include areas such as the lips, cheeks, and under the eyes and chin. Other reasons that may cause dissatisfaction and the desire to remove the filler are:
Asymmetry

Protrusion or excessive volume

Regret the results

Existence of an allergic reaction
Is it possible to improve the result of gel and filler injection?
If you are unhappy with your end results, or wish the results looked a little better, the good news is that it is often possible for a skilled cosmetic surgeon to correct or improve the result of a facial gel and filler. The best way to solve this problem depends on the nature and severity of the problem as well as the type of filler that was initially injected.
Mild defects such as moderate bulge or slight asymmetry can often be corrected by massaging the area. Your doctor can give you a massage or teach you the proper way to do it.
Dissolving under eyes filler
Injecting gel and filler under the eyes is a very specialized treatment that must be done with the utmost care. Gel and filler under the eyes may take a long time to dissolve to treat dimples and sagging under the eyes, so rubbing and massaging the injection site alone may not be enough for faster gel analysis. If you feel that there is too much bulge under your eyes or you feel discomfort after injecting the filler under your eyes, an experienced doctor can solve this problem for you.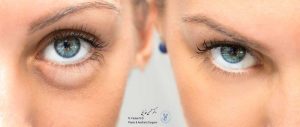 Dissolving lip filler
Sometimes too much gel is injected into the lips, causing them to become abnormal. If this is a problem you are experiencing, you can certainly correct the excessive volume of the lips. Very bulky or asymmetrical lips are usually a problem that can both be corrected and solved by Dr. Fadaie's clinic.
People who use permanent gels, including pazh gels, may have many problems over time. Side effects include infection and gel migration. Some people also develop abscesses and infections after injecting Pazh gel, which require emergency evacuation of the gel anyway. The main complications  are displacement of Pazh gel, asymmetry and unevenness after injection, inflammation, infection, swelling, stiffness, adhesion and fibrosis in the injection site. Due to the non-standard nature of this gel, more than 90% of people who have injected Pazh gel, will suffer from a number of aforementioned side effects of Pazh Gel injection within three years. It should be noted that the most key and important point in draining Pazh gel and treating the complications caused by the presence of it, is the skill and experience of the doctor.
How many seasons is needed for filler removal?
You may not need more than one session. But depending on the amount of filler and the volume of the injected gel, you may need another treatment between 3 and 5 days later.
Filler removal side effects
Side effects reported with hyaluronidase are very rare, with minor bruising being the most common symptom (as with any injection). This bruising is usually minor and can be covered with a little makeup.
If you are taking blood thinners, talk to your doctor. Aspirin or warfarin users are more at risk for bruising. However, this does not mean that no action can be taken, it just means that more attention should be paid to minimizing bruising.
What are the results of filler removal?
The results of filler removal begin immediately but it takes 2-3 days for hyaluronidase to show complete results. Hyaluronidase is not selective and removes any hyaluronic acid from the injection area. It can not tell which part of the injection area is unwanted. Therefore, it is very important to see a specialist doctor with sufficient skills and experience.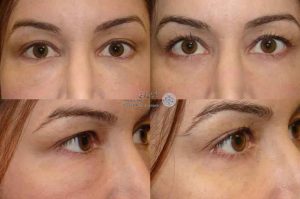 this procedure has the minimal discomfort and pain and the results will be shown in one or two days. In doing this, pay attention to the following points:
This method may not be recommended if you have a history of bee sting allergies.

The cosmetic surgeon determines how much hyaluronidase to use and exactly where to inject.

Lidocaine may be used to numb areas needed for solution injection.

There may be bruising at the injection site that goes away after a few days.

Re-injection may be needed to even out the results in certain areas.
The most important thing to consider is that if you are not satisfied with the result, you do not have to deal with it. For advice and answers to your questions about filler removal , you can contact Dr. Fadaei Clinic.