lip augmentation in Iran (surgical and non surgical procedures)
Plump lips is often considered a sign of beauty, attractiveness, and youth. Lip augmentation is a type of cosmetic surgery or non-surgical procedure that  improves the appearance of the lips by increasing their fullness through enlargement.        
lip augmentation is very common surgery nowadays. Lip augmentation creates fuller, plumper lips and reduces wrinkles around the mouth. As you age your lips become thinner and less defined due to your body producing less protein collagen.with this procedure you can  restore your lips volume that is lost with aging or fills lips that are naturally thin.

who are the candidates for Lip augmentation ?
if your lips look dehydrated

if Your lips have always been thin and flat

Having fuller lips will help balance out your face

If you want your lips to be fuller

if your upper lip is getting thinner

if your lips are not proportional

if Lipstick runs into creases/lines

Your self-confidence will improve after lip enhancement
types of Lip augmentation
Various fillers, temporary and permanent, have been tried in shaping the lips, with gratifying results. these are different options for lip augmentation :
LIP INJECTIONS OR FILLERS
Lip fillers are injected into the upper and lower lips. With lip injections or fillers, you can achieve your desired goal in less than half an hour.  Hyaluronic acid (HA) and polyacrylamide (PA) are the two main fillers widely available. Worldwide usage and published reports clearly confirm the efficacy and safety of HA fillers. They are one of the key components of successful combination treatments of the aging face and lips.
Two common types of fillers that can be injected to your lips are hyaluronic acid-based lip fillers and collagen-based lip fillers.
Hyaluronic acid-based lip fillers 

are biodegradable substances that occur naturally in body joints and skin that help increase volume in the lips, and provide longer-lasting results.

Collagen-based lip fillers 

are the most commonly used fillers all over the world. They come into two types: human-derived collagen, and bovine-derived collagen.
advantages of lip filler injection
Quick and Simple

Local Anesthesia – Painless Lip Injections

Natural Material

Temporary in case you don't like it
LIP AUGMENTATION WITH FAT TRANSFER
Lip augmentation with fat transfer has proven to be a safe and effective option to: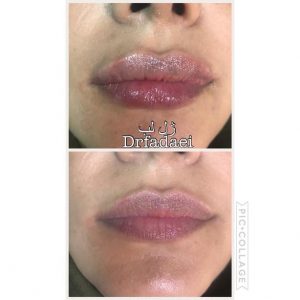 Restore a more youthful lip shape, definition, fullness, and smoothness

Perfect the shape of the lips

Correct sagging or drooping of the lips resulting from smoking, gravity, environmental damage, and/or age

Boost lip volume for patients who are dissatisfied with thin, small, flat, underdeveloped, drooping, or loose lips

Improve the appearance of lips that are beginning to show the signs of aging (i.e. wrinkles and fine lines around the lip border or on the lip surface)
This method is suitable for those who want to have plumper lips without injecting any foreign material into their body. The most prominent feature of this method is that it causes no allergy because of being a part of the patient's own body.
  advantages of fat transfer
Your own body fat

Local Anesthesia

Possibly longer lasting
LIP IMPLANTS
one of the permanent options for lip augmentation  is to use implants. the implant is made of a soft silicone that is tapered at the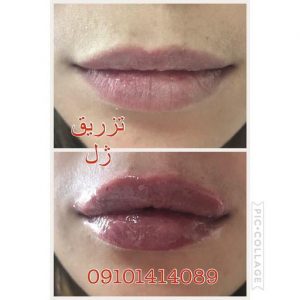 ends to emulate the natural shape of natural lips. The implants can't rupture or leak and come in different sizes.Lip implants can create the plump, shapely pout you desire. They can last a lifetime.Lip implants come in many sizes and shapes that you can choose from.
GORE-TEX lip implants 

have been used for many years. In this method, natural lip tissue grows and makes the implants a part of the lip structure.

AlloDerm 

is derived from human tissue. That is why it will not provoke an allergic response.

SoftForm lip implants 

are also made from ePTFE but have a tubular shape. This lessens the chance of migration.

Mentor lip implants 

are FDA-approved prosthesis which yields natural-looking results with the least possible side effects.
advantages of lip implant
Performed under local anesthesia

One Hour appointment

Made of soft silicone – cannot rupture or deflate over time

Does not restrict lip movement

Natural appearance
lip augmentation recovery
The recovery time for lip augmentation is usually 1 to 3 days. However, for 7 to 14 days following the surgery, your surgeon will recommend that you avoid any kind of pressure or pulling around the lip area.
lip augmentation in iran
If you want to  get a lip augmentation procedure, you can have it done in Iran at a much more affordable price compared to other places. it can be a option if you want to have other cosmetic procedures done too.
what to know about lip lifting?