Neck Contouring and Lipomatic
neck contouring and lipomatic / Neck Lipomatic / Neck Lift / Double Chin Lipomatic
Neck Contouring and Lipomatic in Iran
You may be a candidate for neck liposuction if you have localized deposits of fat in the anterior part of the neck—under the chin. neck contouring and lipomatic is intended to create a better contour on the neck and chin.   
Sun, gravity, stress and age can be factors that cause the signs of aging, especially in the face and neck. Fat deposits may appear around the neck and the jaw line may loosen. Dr. Mohsen Fadaei, a specialist in plastic and cosmetic surgery, has many years of experience in performing neck lift and lipomatic neck surgery and usually combines this method with other cosmetic methods such as nose surgery, eyelid surgery, eyebrow lift and forehead.    
In addition to neck contouring and lipomatic surgery, the plastic surgeon may suggest other methods such as face and neck lifts or chin implant to get better results from the surgery.            
A chin implant surgery may require an incision under the chin or inside the mouth, and for a face lift and neck lift, an incision may be made in the area behind your ear. Fats are sucked in and muscle may be tightened and excess skin removed. It all depends on each person's condition and the plastic surgeon's decisions.  
Which surgery is better: neck lift or neck lipomatic ?!
For some people a neck lift is needed and for others a neck lipomatic is better. For some people, both methods may even be needed together to get better results. These two methods are aimed at creating a younger and more beautiful neckline, but in fact they solve two very different problems.
When is Neck Lift surgery recommended to clients ?!
In neck lift surgery, the neck muscles are lifted and the excess skin is removed.

The elasticity of the skin is lost.

It is usually associated with facelift surgery.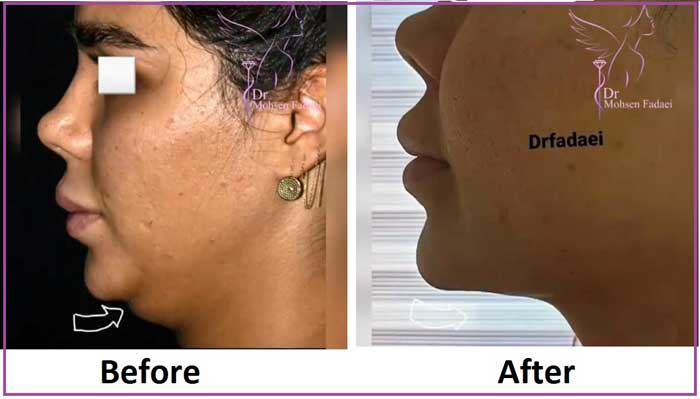 When is Neck lipomatic recommended to clients ?!
The best way to get rid of double chin

This suction method removes fat and reshapes the chin, neck and jaw area.

The lipomatic method will be ideal for patient who are younger and has good skin elasticity.
For more information about cosmetic surgery methods such as lipomatic surgery and neck contouring, chin implant , face lift, neck lift, etc., please contact Dr. Fadaei Clinic, a specialist in plastic and cosmetic surgery in Tehran.
In neck lift surgery, your goals, age and race are taken into account, and a natural balance and proportion is created between all the features of your face. In addition to helping you feel attractive and confident, we are committed to your health and will be checked before surgery.
In the first consultation session, the plastic surgeon will determine if you are a good candidate for neck lift or lipomatic neck and chin or not ?! Personal goals, medical history, facial structure, and the elasticity of your skin are important factors to consider when planning a treatment.
Neck Lipomatic – Double Chin Lipomatic : In this method, special equipment is used to remove fat from the jawline and under the chin.
Cervicoplasty : Small incisions are made under the chin or around the ears, and the muscles beneath it tighten. Excess skin and fat may be removed in overweight people.
Submentoplasty : One of the methods is to eliminate Double chin. A small incision is made in the curve of the neck and the muscles there tighten. This method is mostly done in people who have reached the ideal weight and have a moderate amount of loose skin in the neck area.