Answers to questions about brow lift
Answers to questions about brow lift
Answers to questions about brow lift  
Appearance, from hairstyles and body size to skin color and texture, plays a big role in everyone's daily life. Unfortunately, only a small percentage of men and women are completely satisfied with their appearance. In some cases, treatments are available, especially if your appearance issues affect not only your appearance but also your self-esteem and confidence.
For example, brow lift can be useful in case of negative effects of aging on the face.
By understanding the answers to a few questions about brow lift, you will understand whether brow lift is suitable for you or not ?!   
How is an brow lift done?            
The surgical procedure and how to perform brow lift are the first questions that are asked. The general process of brow lift depends on the specific needs of each person and the method chosen by the plastic surgeon.
In the past, brow and forehead lifts required a very long incision along the hairline.
Traditionally, an incision is made in the upper part of the forehead and the lower sides of your head. Your surgeon then lifts the skin of the forehead and removes excess tissue as the forehead muscles tighten. Then you can raise your brows and tighten in your new position.
Advances in medical science have made it possible for plastic surgeons to specialize in several different brow lift methods. Depending on the amount of extra skin available and the result that each person wants, the plastic surgeon will suggest the ideal brow lift method for brow lift applicants.
Endoscopic brow lift is a non-invasive procedure performed using anesthesia. In this brow lift surgery, incisions 2 – 3 cm long are made at 3 to 5 points on the head, which allow to enter a small camera in forehead tissue, so the surgeon can see the tissue and muscles under the skin.
In an endoscopic brow lift, a plastic surgeon can separate and lift the subcutaneous tissue from the bone with the help of a tool that is guided from the top of the head to under the skin; Also remove extra tissue and muscle if needed. After a while, the subcutaneous tissues rejoin the bone and remain in place. One of the advantages of endoscopic eyebrow lift is that you can remove both the line and the crease of the forehead and the wrinkles between the eyebrows or the frown line at the same time.
By removing sagging skin on the forehead and relocating muscles and underlying tissues, brow lift can correct drooping brows, eliminate deep grooves and frown lines, and restore a younger, smoother appearance to the upper third of the face.

Forehead lift with endotains: This type of endotine raises brows, removes frown lines and can eliminate forehead wrinkles. The cut site of this type of lift is above the forehead and in the hairline.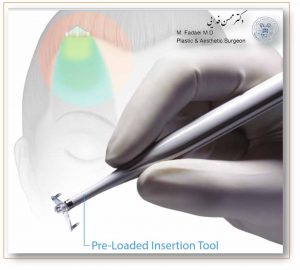 Lifting and stabilizing brows and eyelids: This type of lift is done with the aim of removing excess skin on the upper eyelid and brow lift. People who do not have forehead wrinkles or frown lines. In this type of endotines lift, upper eyelid blepharoplasty incision is used for access and brow lift.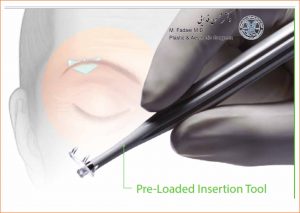 What are the benefits of brow lift?
The benefits of brow lift vary from person to person. However, you can look younger.
This method reduces the lines and horizontal wrinkles above the brows on the forehead skin. In addition, drooping brows can be removed with this method. Many patients notice a noticeable difference in the number of lines and wrinkles around their eyes and nose.
If you have small lines and wrinkles between your brows, an brow lift can help. These thin wrinkles, known as frown lines, are annoying to many people.
Another advantage of brow lift is that it can be a solution to eliminate drooping brows on the eyelid.
Are you a good candidate for an eyebrow lift?
In a face-to-face meeting with Dr. Fadai, a specialist in plastic surgery and checking the health status of the client, it will be determined whether you are a candidate for brow lift surgery or not!
It is also important to have realistic expectations of this surgery. Brow lift reduces fine lines and wrinkles. It brings youth back to your face. However, brow lift does not completely change your appearance.
How long does it take to recover from brow lift surgery?
Recovery time is different for each patient. The total recovery time depends on the type of procedure performed and the physical condition of the individual. In most cases, you can return to work after about a week to 10 days.
After endoscopy brow lift or endotine surgeries or traditional method, you will experience swelling and bruising after surgery. But do not worry, inflation will decrease after about a week.
It is normal to feel pain and discomfort for a few days after surgery. Patients who have had a traditional brow lift experience more pain due to more incisions than patients who have had an endoscopic or endotine brow lift.
There are many benefits to brow lifts, but understanding this method is smart.
For more information about brow lifts or other cosmetic surgeries at Dr. Fadai Clinic, Contact us.
Answers to questions about brow lift , Answers to questions about brow lift  , Answers to questions about brow lift