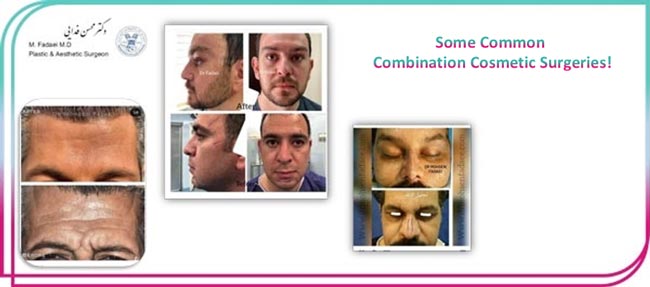 Some Common Combination Cosmetic Surgeries
There are some of the common combination plastic and cosmetic surgeries which can be done as needed. For example, the popular Mommy Makeover surgery is a combination of two or more surgical procedures.
Many of patients who want to have more than one cosmetic procedure consider combination plastic surgery and performing them simultaneously. However, combining surgeries while being cost-effective and minimizing your recovery time is a great option for achieving the results you want.
For example, the combination of breast augmentation surgery with a breast lift is very common, so you can reshape, resize, and lift your breasts all at once. If the surgery is performed with the informed diagnosis of a specialist surgeon, the combination of these methods will not prolong the healing process and will not cause any problems. Similarly, facelift surgery is often associated with neck lift. In addition, lipomatic around the abdomen, hips, thighs, and back or buttocks is often performed with abdominoplasty.
It is generally possible to perform several surgeries at the same time, but you may be wondering if this is safe and which surgeries are possible at the same time.
It is difficult to determine that combination of which surgical procedures can be performed ?! This is a precise process that needs to be checked on each person's condition and should be done under the supervision of a plastic surgeon. Dr. Mohsen Fadaei, a specialist in plastic surgery and cosmetics, will consider your goals and health based on your needs, wants and physical condition. Each person will perform the desired combination surgeries.
Is it safe to have multiple plastic and cosmetic surgeries at the same time?
Many combination cosmetic surgeries are reasonably safe, as long as you trust your plastic surgeon.
In fact, having multiple surgeries at the same time can have benefits. Patients save time and money with just one anesthesia. In addition, because there is a risk of anesthesia, it is safer to reduce the number of times you are anesthetized.
Patients can also reduce their recovery time and overall recovery time and do not have to go through two or more recovery periods when combining surgeries.
Finally, by performing two or more surgeries at the same time, you will get more impressive results.
What are the best types of combined cosmetic surgery?
The combination of some cosmetic surgeries is more meaningful than both the combination for both safety and recovery.
Here are some common types of plastic and cosmetic surgery:
Abdominoplasty and lipomatic surgery and breast lift and breast implant

Abdominoplasty, lipomatic surgery and fat injection into the buttocks

Abdominoplasty surgery and breast lift and breast implant

Forehead surgery and brow lift surgery and reconstructive nose surgery and central lip lift surgery

Facelift surgery and eyelid surgery (blepharoplasty)

Face lift and brow lift surgery

Face lift and neck lift

Face lift and the face fat injection

Eyelid surgery and dermal fillers

Chin prosthesis surgery and rhinoplasty and brow lift surgery

Breast lift surgery and breast implant surgery

Breast implant surgery and rhinoplasty

And…
Which plastic surgery methods are better not to combine ?!
The combination of some surgeries does not make sense. For example, breast augmentation surgery and facelift are not preferably performed together. In this case, recovery becomes more difficult, because two completely different areas have undergone surgery. The same is true of the combination of Brazilian hip lift (BBL) and breast surgery. But it can be done at the discretion of the plastic surgeon.
Finally, if combination surgery is possible, your plastic surgeon will advise you. Your doctor will evaluate your application based on your general health and other factors.
Contact us to schedule a consultation with Dr. Mohsen Fadaei, a specialist in plastic and cosmetic surgery!
Dr. Fadaei, a specialist in plastic surgery, has many years of experience. Dr. Fadaei always advises what is best for his patients! If the combination of surgeries really works, he is more inclined to do it.
Examples of simultaneous forehead lift surgery and rhinoplasty
Secondary Rhinoplasty – Secondary Genioplasty (Correction of chin length)