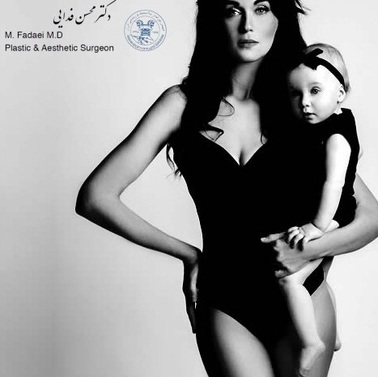 mommy makeover surgery- restore your body after childbearing
Childbirth creates many changes in a woman's body that, while good for the health of the baby, may not be to her liking afterwards. A "mommy makeover," as the name suggests, combines a number of plastic surgery procedures into a single effort to "turn back the clock" on a woman's body after she has given birth and weaned her child. The goal of a mommy makeover is to restore the shape and appearance of a woman's body after childbearing.     
mommy makeover procedure
A mommy makeover is a fairly standard combination of cosmetic surgery procedures that are performed together during a one operation: a breast lift, a tummy tuck, and liposuction (normally of the tummy and lower body). These are, in fact, the most common plastic surgery procedures for women overall. Sometimes breast augmentation using implants is also performed, if necessary or desired, and women who have had a Caesarean section may opt for scar revision.
Mommy makeover surgery encompasses whatever mothers need to look and feel like their pre-childbirth selves, whether that means a tummy tuck, a breast lift, or whatever else.
These procedures collectively address the most common effects of birthing and breastfeeding on a woman's body: weight gain and skin stretching in the abdomen, and loss of firmness and possible "deflation" in the breasts. The advantage of a mommy makeover is that the results are achieved all at once, and the recovery times for multiple procedures are combined.
Possible procedures in a mommy makeover
Breast augmentation

Breast lift

Buttock augmentation

Liposuction

Tummy tuck

Vaginal rejuvenation

Who is a good candidate for a mommy makeover?
You may be a candidate for mommy makeover surgery if:
You are in good medical health

You are at your ideal body weight

You have a positive outlook and realistic expectations

You are finished with childbearing
A realistic expectation of the results is also very important. To this end, Dr. Fadaie is always careful to explain everything about your procedure as clearly as possible, including the risks and the most likely outcomes.

How can a mommy makeover benefit me?
Pregnancy can leave lasting—and often unwanted—effects on your appearance, such as sagging breasts, stretched abdominal muscles, and loose, excess skin. Many women are discouraged when their breasts and body do not return to their pre-pregnancy shape, even with a healthy diet and exercise. By addressing unwanted changes of pregnancy and restoring the appearance you desire, a mommy makeover can help you feel more like yourself, improving your comfort and self-confidence.
Each patient has her own personal goals with her mommy makeover, which often include one or more of the following:
Correct sagging and restore volume to breasts

Improve breast symmetry

Repair stretched or large nipple

Remove excess, sagging skin from the abdomen

Repair stretched or separated abdominal muscles

Reduce pockets of diet- and exercise-resistant fat

Improve the way clothing and swimsuits fit
THINGS TO KNOW ABOUT MOMMY MAKEOVER SURGERY
۱ – If you think you might want to have more kids at any point, it's probably most prudent to hold off on your plastic surgery—simply because having more kids can undo whatever results you get from the mommy makeover, leaving you right back where you started.
۲- You should have your mommy makeover when you're at the weight you want to be at for the rest of your life . but you don't want to get super-skinny before the procedure. We recommend reaching a weight you can maintain.
۳- You can add other procedures to your mommy makeover. It might mean adding some additional procedures. These might include liposuction, injectables, and more.
۴- It will be about four weeks before you're back to 100 percent of your normal activities, including any kind of vigorous exercise.
۵- You must be fully recovered from childbirth before undergoing surgery.
۶-If you are considering breast surgery, you should wait until several months after you are finished breastfeeding to allow the breasts to return to a stable size and shape.
How soon your results will be final also depends on the procedures you have. Typically, patients feel comfortable and confident wearing a swimsuit within 3 months after surgery. When performed by a qualified cosmetic surgeon, a mommy makeover can be a rewarding procedure with long-lasting results.