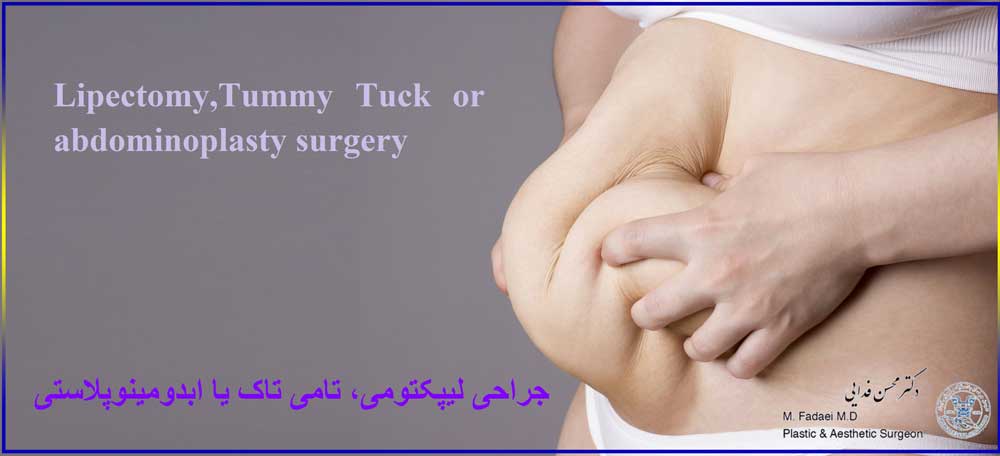 Lipectomy , Tummy Tuck or abdominoplasty
Lipectomy , Tummy Tuck or abdominoplasty
Lipectomy , Tummy Tuck or abdominoplasty surgery
Abdomen and waist of the body, can be stubbornly resistant to a healthy diet and exercise. Men and women who are trying to lose weight around their abdomen may be interested in abdominal surgery (abdominoplasty). Tummy tuck surgery removes excess skin and fat deposits and tightens abdominal muscles that may have been severed due to pregnancy or overweight. The result is a flat, firm abdomen. Abdominal bandages are especially useful for women whose abdominal muscles are dislocated (diastasis) which may occur after pregnancy.        
In this surgery, surgeon will removes excess skin and excess abdominal fat, which are often in the wrong position due to overweight or pregnancy.     
This surgery corrects looseness and sagging in the lower abdomen. The main purpose of this method is to improve body contouring.
Lipectomy is ideal for people over 18 and up to 60 years old. People between the ages of 61 and 70 must obtain a medical license to have this.
This surgery is also ideal for men and women with excellent health, without mental problems and with a positive and realistic outlook.
Candidate for abdominoplasty or Tommy Tuck surgery in Iran 

Lipectomy , Tummy Tuck or abdominoplasty
People who can not improve the appearance of the abdomen through diet or exercise

Those who have a lot of extra skin on their abdomen and sides, after losing weight

Loss of skin elasticity due to pregnancy

Those who want to get rid of excess fat deposits and skin on their abdomen

Those who want to improve the abdominal muscles to look more fit.

People with stable weight and are physically healthy

Non-smokers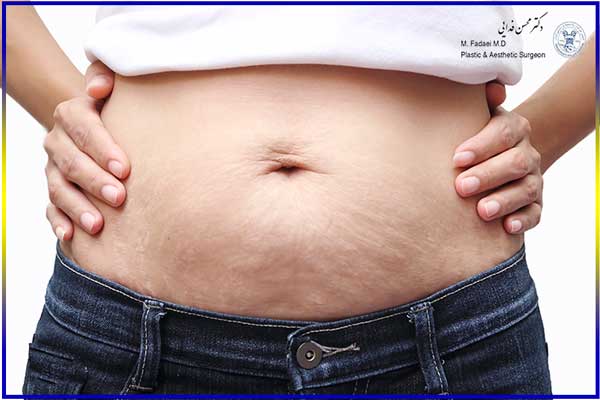 One of the dangers of this surgery is related to poor wound healing. The wound is expected to heal quickly after the procedure, but abnormal sores may develop on the skin or deep tissues. These scars can show a different color to the skin around them and may require additional treatments, including surgery. This risk depends on the healing process of the body and is not in any way the responsibility of the surgeon.
Another effect of this procedure is pain, which can subside following the surgeon's advice and medication on the days and times prescribed. Remember that each person controls pain differently. But if you have severe pain, please contact your surgeon.
Before Lipectomy or Tummy Tuck surgery   

Lipectomy , Tummy Tuck or abdominoplasty
For 10 days before surgery, you can not take anti-inflammatory drugs, aspirin, omega 3, 6 or 9 or vitamin E. These drugs may increase the risk of bleeding.

Quit smoking

You need to make sure that someone accompanies you after the operation.

This surgery is usually performed under general anesthesia and usually takes 3 to 4 hours.
An incision is made in the lower abdomen, and then, the skin and excess fat are removed. You can resume your normal activities in the shortest time and this method can be combined with other surgeries such as breast implant or breast lift, liposuction, Buttock Augmentation Surgery or face cosmetic surgeries.
Before Lipectomy or Tummy Tuck surgery   

Lipectomy , Tummy Tuck or abdominoplasty
After the surgery, a compression post-op garment should be used for 4 weeks. then, you should only use it at night. During the first 72 hours, it is normal to experience fluid drainage. In addition, it is important to walk, shower regularly from the first day after surgery, and eat healthy foods as recommended by your diet guide.
The patient may not see the expected results and even feel heavy in the first days after surgery. This is perfectly normal because swelling and fluid retention are caused by surgery and subside 8 days after surgery. From day 9, you will see the body contour improve. Weight loss may occur between the first and fourth month after surgery.
Avoid strenuous physical activity for a week after surgery.

Include red fruits and vegetables, liver and skinless fish in your diet.

Personal hygiene can be done as usual.

Also, remember that it is very important to take postoperative examinations and the surgeon's advice seriously.
For more information about Tommy Tuck surgery, please contact Dr. Fadaei Clinic. Dr. Fadaei, a specialist in plastic surgery in Tehran, will help you make the best decision for abdominoplasty surgery.
Lipectomy , Tummy Tuck or abdominoplasty
Everything you need to know about Abdominoplasty surgery or Tommy Tuck surgery!