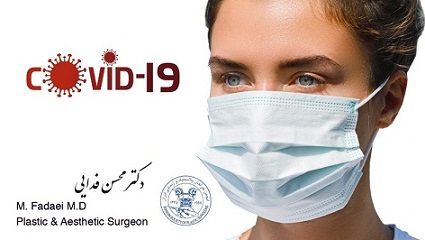 Cosmetic Surgery During The Coronavirus Pandemic
Cosmetic Surgery During The Coronavirus Pandemic: How should it be done?
Hospitals and surgery centers around the country have put pandemic protocols in place to protect patients and providers alike. prospective patients must be tested for coronavirus 48 hours prior to any surgery. Once a patient is cleared, the Doctor and his team have to follow strict guidelines before, during, and after surgery. During the intubation, the anesthesiologist is the only one allowed in the room. "They should wear an N-95 mask, plus an additional face mask, at a minimum, or a PAPR [powered air purifying respirator]." After the anesthesiologist has placed the breathing tube, the surgical team is better to wait 20 minutes before returning to the operating room.
When performing procedures involving oral airway or sinus work, surgeons are advised to wear a mask with eye shield protection. Post-surgery, day patients are still permitted to fully recover, but they are encouraged to leave the surgery center as soon as possible. Patients requiring an overnight stay are not permitted to have any visitors.
If You Feel Sick, Please Consider Canceling and Rescheduling Your Appointment
If you are feeling unwell or experiencing any signs of illness (runny nose, sore throat, upset stomach, body aches, temperature, cough or flu-like symptoms), we ask that you call us as soon as possible to postpone or reschedule your appointment. It is also important that you seek immediate medical attention.
HOW CAN YOU HELP?
Most people have probably read the below in some for over the recent weeks but we urge you to please take time to read the following;
• Monitor you're health, be aware of any signs that you may not be well such as a cough, sore throat and/or fever.
• If you begin feeling unwell seek medical attention immediately.
• If you are showing signs of illness you will most likely need to self-quarantine until you are no longer showing any signs of illness.
• Wash your hands and use hand sanitisers regularly.
While the above may seem obvious, we ask everyone to take care of themselves. Avoid situations that put you in contact with large groups of people. Keep hydrated, eat well, get plenty of rest, and continue to practice good general hygiene habits.
How to Prepare for Your Online Consultation ?
The benefit to scheduling an online consultation during the pandemic is that you probably have more flexibility to do so! You may be working remotely and spending more time at home on the weekends, opening up your availability and giving you more time to research your options.
For the best results, we always recommend a thorough consultation. Here are the best ways to prepare:
• Research your procedure. Learn about the different procedures that are available to correct your issue. For example, if you want to enhance the appearance of your breasts, some options include breast augmentation, breast reconstruction and breast reduction.
• Wear comfortable clothing. The doctor may ask to see relevant portions of your body. Be sure to dress comfortably for your virtual appointment.
• Write down your questions. A consultation is your time to ask questions, so don't hesitate! We want our patients to be informed on what to expect.
• Know your medical history. Dr. Fadaee may ask about your medical history. It's helpful to have this information on hand. Also, keep a list of your medications and supplements handy.
• Ask about financing. Some people pay out of pocket for their procedure, while others use financing. Ask about our financing options that can help make your procedure more affordable.